The Mind Garden RHS Chelsea Flower Show 2022
photography – marianne majerus
a series of sculptural walls cascade and swirl through the sloping garden like a handful of petals tossed to the ground. at times these rough textured walls enclose peaceful seating areas, frame views and create backdrops to generous drifts of planting. and then the pattern becomes more turbulent with walls coming together to form narrow passages before spreading out into wider open spaces. the walls are rendered with sand, lime and shells. wonderfully tactile, they support an overriding biophilic design ethos which brings people up close to nature through the interaction with woodland and meadows, natural materials throughout and water, the bringer of life. benches carved from wind blown oak provide places for contemplation and conversation and the water gently pours from ceramic spouts into tranquil pools.
the garden is largely set amongst open woodland with generous swathes of colourful perennial meadow planting.
scroll down to find the full plant list.
the garden plan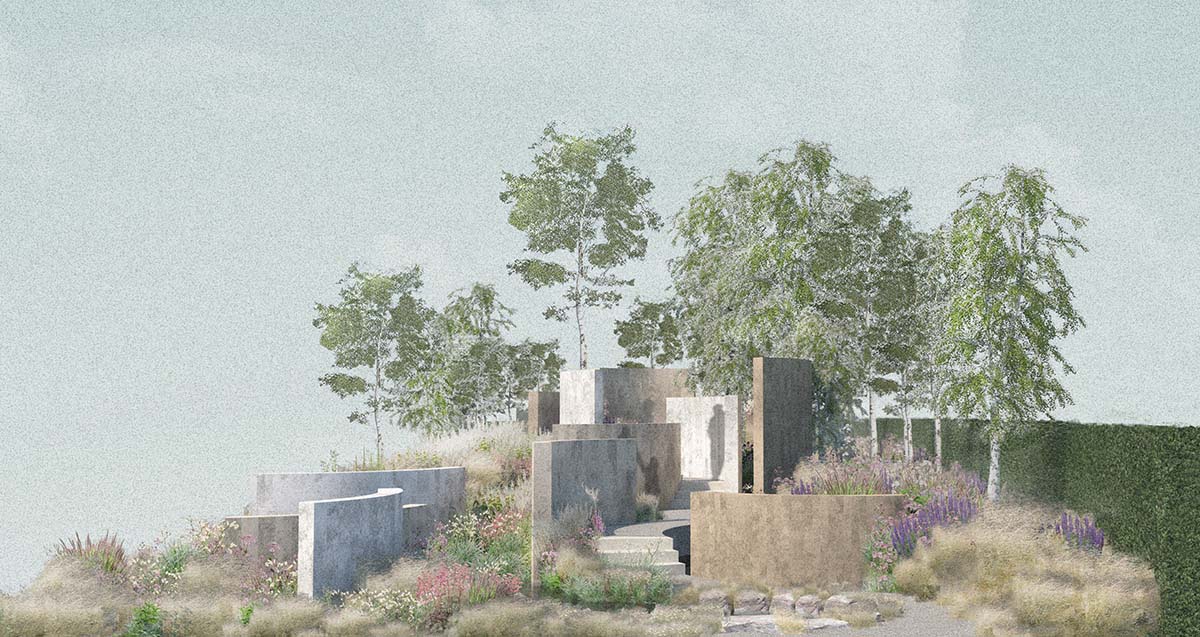 the inspiration
this year, I want to build a garden that is dramatic, yet tranquil and beautiful.
the idea for this garden has evolved over a number of years. we have built various gardens with curved walls, like this one on the Isle of Wight, but the garden at Chelsea will be very different.
we started with a paper model which was put together quite quickly but still bears a very close relationship to the final design.
WHY MIND?
building a garden for Mind, the mental health charity, is a very timely thing to do. we agreed to build this garden during one of the various lockdowns. many people were working from home, and it was a difficult time. there's been a general trend of talking about health, wellbeing and the benefits that gardens bring. it's something which I do feel that as professionals working in this industry, we probably all have known this for some time. now it is a good time to kind of bring these things together and put mental health on the stage of Chelsea.
having the conversation:
one of the key things about mental health is that people haven't historically spoken about it. so, the whole point of this is to make people talk about their mental health, other people's mental health, and make it more an acceptable thing to discuss. so, although this is a garden design which functions well in its own right, it is also very much about conversations which can be so important for mental health.
the walls themselves can be seen to represent different aspects of mental health. the spaces between them are protected and enclosed in the centre. In other spaces it's more chaotic and there's turmoil. and some of the spaces and the junctions between the walls are actually quite uncomfortable. but then as you move down through the garden, you look over the top of them, they spread out, they become quite calm and quite serene. i am not an expert in mental health, but i am pleased that mind ambassadors i have described the garden to say the design has a real resonance with them.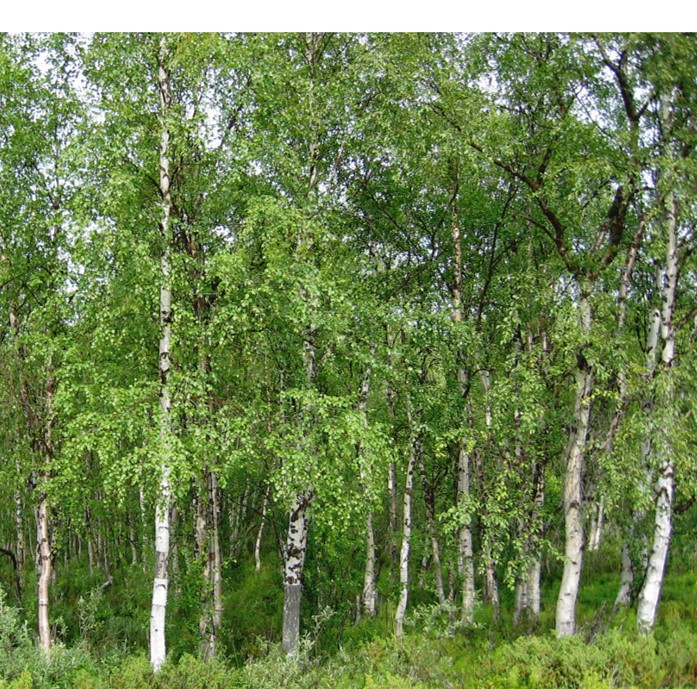 a sense of place
the walls are going to emerge from a birch forest. we're not recreating the forest. it's a sense of a forest and we have selected nine birch trees – Betula pendula and Betula pubescens. i chose birch because they have a really bright, fresh green foliage at this time of year. it's fresh and uplifting and also the way that the light comes through in the shadows they cast has a magical quality. and for me, walking in the woods as a child, having that atmosphere, it's a happy place for me. i wanted to try and capture some of that feeling from my own personal experience. and i am sure it's proven that walking in the woods can be very calming.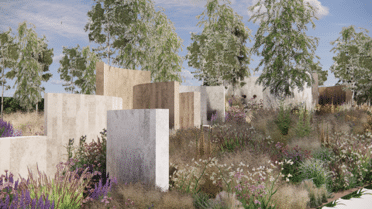 biophilic design
we want to bring people up close to nature to experience its benefits for our mental wellbeing. to highlight this, the layout and landscaping materials all have a very natural feel. there are no straight lines and we have chosen materials with rich textures – rough walls, hand fettled stone and windblown oak – all that invite touch. the birch trunks are incredibly tactile, and the leaves cast a beautiful dappled shadow. the planting will display a rich tapestry of texture and colour.
this combination of light, water and natural landscapes creates a rich multisensory space.
the walls
there are there are 13 curved walls that will be rendered, using a special lime-based mix, by Guy Valentine. they will be three slightly different colours or slightly different tints of the same colour. because of the curve and the shadows cast as the sun moves throughout the day, different days, different weather, the walls should all read a little bit differently.
the render is very tactile, but although it's completely man-made it's also meant to echo the natural environment. Guy has been working off-site with us and experimenting with different colours, textures and finishes. there are clearly defined elements between the layers. the render surface opens up and you can see some of the aggregate inside and we'll have different width bands on different walls.
the walls get lower as you go towards the front of the garden and the path disappears. everything is curved in the garden and it means that you mainly see planting and walls whichever direction you're looking at, but you will also see glimpses of the seating area and water chutes.
at the top of the garden the walls will create an enclosed and protected seating area with wooden benches. further down there is a second enclosed seating area with different stone seats. the idea is that the different spaces encourage different types of conversation.
water
one of our seating areas will be alongside a tranquil pool that is replenished by ceramic water chutes protruding from the wall. the curves of these walls is such that they also tend to amplify and reflect sound so there's an increase in volume when you're stood in a certain sort of sweet spot within them.
our process for making the water chutes again began with some smaller scale models produced by ceramicist, Thea Thompson. Thea's work with different clays and glazes produces wonderfully intriguing pieces inspired by the textures and surfaces of cliff faces; the deep craggy fractures, the twisted layers of sedimentary rock and the smooth weathered softness of the stone.
thea produced the smaller models and we decided to put glaze inside the middle of the chute as if the water's worn it away and revealed the detail. the chutes are very tactile, very rough and textured. they are very large, almost like chimney pots, and will protrude from the rendered walls.
we built a test wall off site to check the renders and fixed the exact locations, thicknesses, heights and projections before we started at the Chelsea site.
sculptural wooden seating
we are collaborating again with sculptor, Johnny Woodford, who made our carved walls for our Chelsea garden in 2019.
the design of the benches started with some maquettes of small-scale benches, and he also experimented with different ways to pattern the wood. this was a really good process to go through and to help us.
once we were happy with the bench shape, Johnny began working on the full-scale benches with pieces of wood from a single tree. it took a while to find the right tree.
we initially envisaged benches with the type of finish we had in 2019 with dark burnt wood, but this year we have gone for something lighter and we've ended up a finish which is just achieved through wire brushing. it's more burnt on the top and then it's brushed back with a wire brush. you can see a lot of the honesty of the timber, the shapes in the work, the splits and the twists. it's really brought out the natural colour despite being burnt. on the ends we have a finish which really brings out the grain.
purbeck stone
we are using Purbeck stone for the steps and for gravel. we also have stone seats which are cut directly out of single blocks of purbeck stone.
it has all been worked by hand by Lovells Stone Group. once it's polished, the strata are really brought out which is a key feature of the style. i love the way you get a sense of millions of years of history when you look at the detail of the stone with its layers and fossil encrustations. it's all part of the theme that runs through the garden because we've echoed these strata in the render on the walls.
the planting
under the trees it is shady so we have chosen grasses and plants such as Auralia and ferns to create a lush green area. as you move towards the front of the garden the meadow plants are more sun-loving. we will plant bright coloured perennials in amongst a matrix of grasses.
in recent years, it has become harder than ever to prepare for Chelsea. climate change, with its extremes of heat and cold mean that you never know what is going to flower and what will hold on.
we are lucky to be working with crocus who share the passion we have for plants. in the build up to the show, we have been visiting them almost daily to see how the plants are doing and our plans continue to change. it keeps us on our toes.
the planning
in the past few weeks, before we arrive on site at chelsea, we have been busy drawing up plans that are, we hope, centimetre perfect. we have mocked up elements of the garden off-site at crocus to set the position and orientation of the larger elements in a way that means we can put things straight in the ground when we build the garden for real. we only have three weeks to complete the garden, so we need to work incredibly fast and efficiently to complete everything on time and to exacting standards.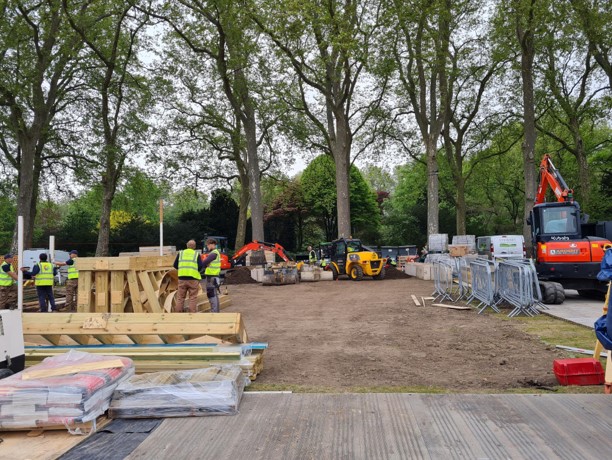 the build
this is our site on day one. we have a long way to go.
a permanent home
once the garden show is finished, the garden will be moved to a mind site in Barrow-in-Furness where the layout will be adapted to make it a garden for permanent use that we hope will help people have a conversation in green, serene surroundings for many years to come.
our plant list for 2022
WILDLIFE HEDGE
Acer campestre
Amelanchier lamarckii
Aronia melanocarpa
Cornus mas
Corylus avellana
Crataegus monogyna
Euonymus europaeus 'Red Cascade'
Viburnum opulus
SHADE
Adiantum pedatum L.
Aralia cordata
Beesia calthifolia
Blechnum penna marina
Blechnum spicant
Briza media
Carex divulsa
Chloranthus sessifolius "Domino"
Deschampsia cespitosa
Deschampsia cespitosa 'Goldtau'
Dicentra 'Filigree'
Disporum longistylum 'Green Giant'
Disporum 'Night Heron'
Dryopteris cycadina
Dryopteris wallichiana
Epimedium wushanense
Gallium odoratum
Ligusticum scoticum
Maianthemum oleraceum
Maianthemum paniculatum
Maianthemum racemosum
Osmunda regalis
Polystichum setiferum
Saruma henryi
Smyrnium perfoliatum
Vancouveria hexandra
DAPPLED SHADE/SUN
Amsonia tabernaemontana 'Storm Cloud'
Angelica dahurica
Asparagus meiocladus
Camassia lechtlinii 'Silk River'
Cenolophium denudatum
Filipendula multijuga var. yezoiensis
Geum rivale
Melanoselinum decipiens
Polemonium 'Lambrook Mauve'
Rodgersia aesculifolia
Thalictrum 'Elin'
Thalictrum rochebrunianum
Valeriana alliariifolia
Valeriana officinalis
Visnaga daucoides
Visnaga daucoides 'Casablanca'
Visnaga daucoides 'Green Mist'
THE MEADOW
Acaena microphylla
Achillea 'Taygetea'
Allium nigrum
Anchusa azurea 'Dropmore'
Bupleurum longifolium subsp. aureum
Campanula patula
Catananche caerulea
Centaurea montana 'Jordy'
Centranthus ruber var. coccineus
Echium amoenum 'Red Feathers'
Eschscholzia californica 'Ivory Castle'
Euphorbia palustris
Euphorbia walliichi
Gladiolus communis subsp byzantinus
Helianthus salicifolius
Leucanthemum vulgare
Papaver somniferum 'Laurens Grape'
Pulsatilla vulgaris 'Alba'
Rosa glauca
Salvia sclarea
Seseli elatum subsp. Osseum
Sesleria autumnalis
Stipa gigantea
Zizia aurea