andy sturgeon to design the mind garden for the rhs chelsea flower show 2022
Work is underway for The Mind Garden at the RHS Chelsea Flower Show in 2022 which runs from 24th to 28th May.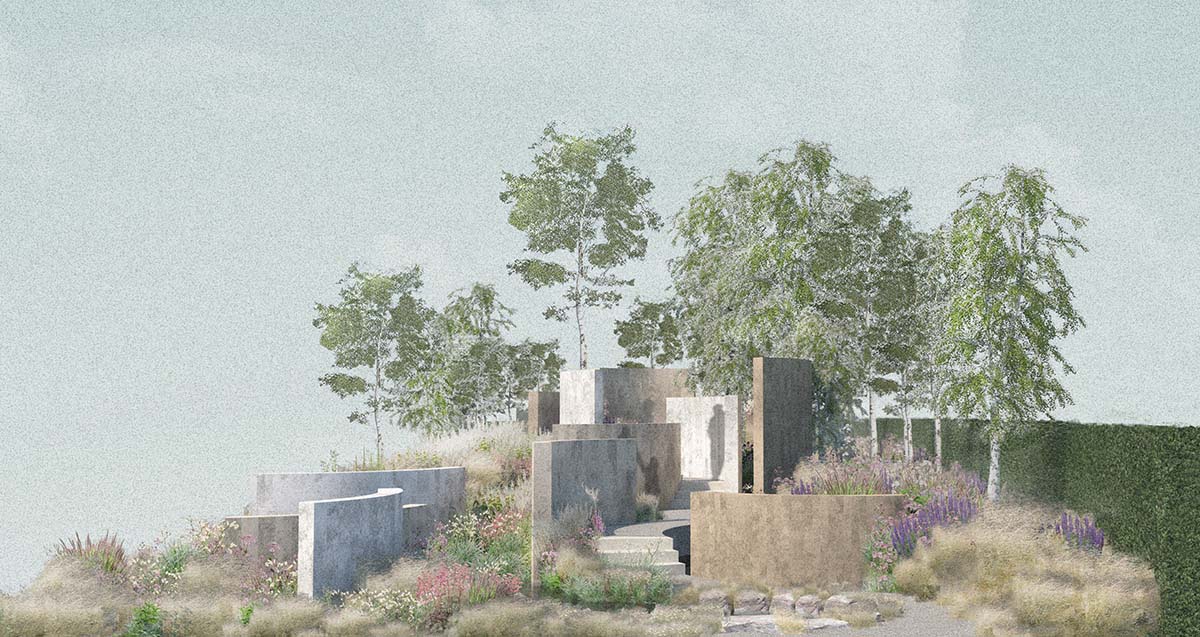 The design is inspired by nature and aims to create a place of calm and connection. A series of sculptural walls cascade and swirl through the sloping garden like a handful of petals tossed to the ground. At times these rough textured walls enclose calm seating areas, frame views, and create backdrops to generous drifts of planting. And then the pattern becomes more turbulent with walls coming together to form narrow passages before opening out into wider open spaces.
The walls are clay rendered; incredibly tactile to bring people up close to nature as part of a biophilic design ethos encompassing exposure to woodland and meadows, natural materials throughout and water, the bringer of life. Benches carved from wind-blown oak provide places for contemplation and conversation. Water gently pours from ceramic spouts into tranquil pools.
The garden is largely set among open woodland with generous swathes of colourful meadow planting at the woodland edge.
Andy will be collaborating with a number of artisan specialists to create various elements of the garden. These include acclaimed ceramicist, Thea Thompson wood sculptor, Johnny Woodford, clay render specialist Guy Valentine and Ideaworks for lights. The construction will be by Crocus.
Andy chose to work with Mind this year because gardens have been a refuge for Andy during difficult periods in his own life.
"I chose to participate this year because I was able to select the charity myself. A rare privilege to be able to do something so beneficial for a charity close to my heart." – Andy Sturgeon