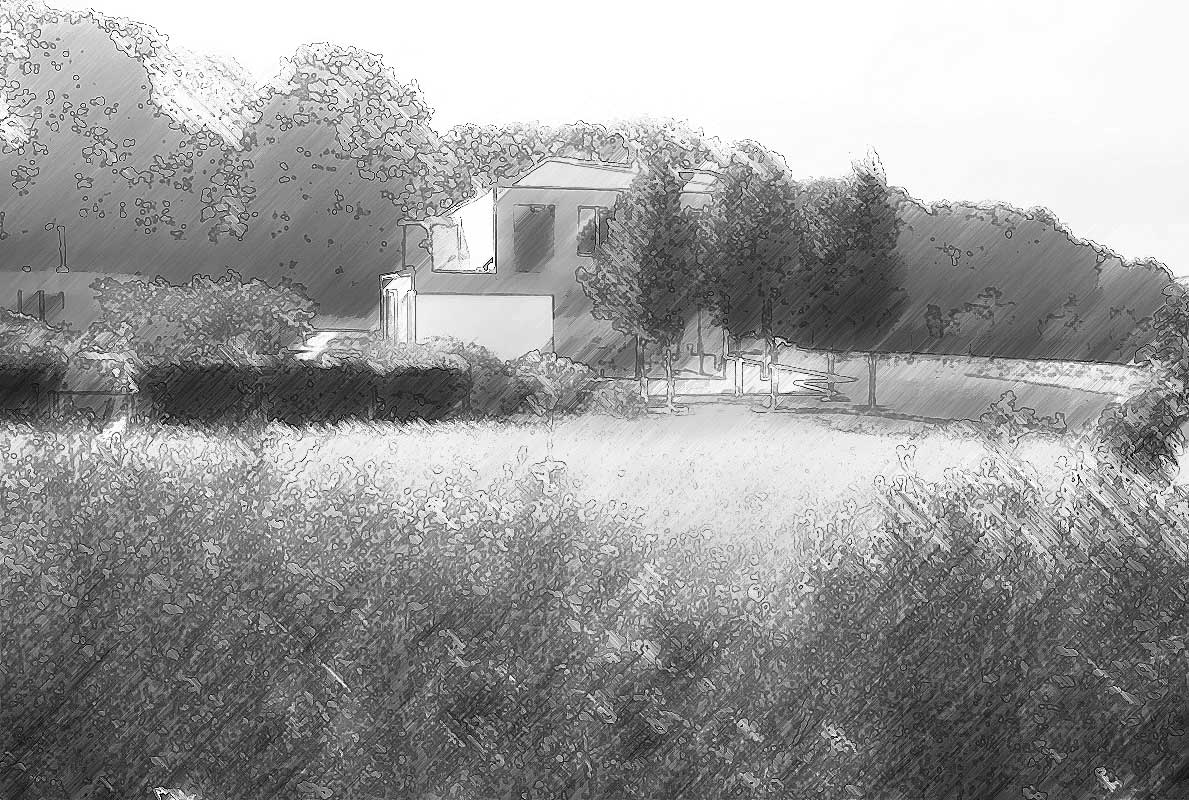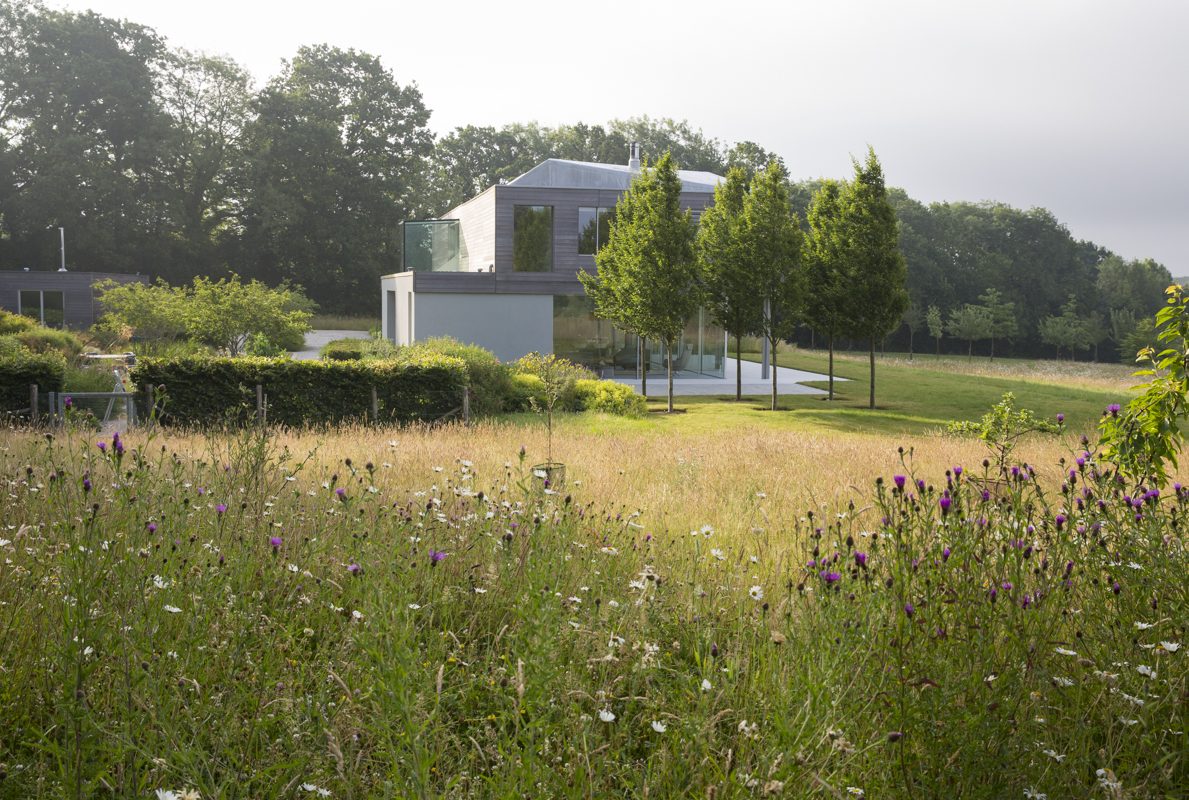 Andy Sturgeon Design

Award-Winning Garden Design in West Sussex
Timeless & Iconic Garden Design
Spearheaded by the critically-acclaimed Andy Sturgeon, he alongside his highly experienced team of designers, landscapers, artists and visualisers specialise in creating genuinely bespoke and beautiful outside spaces in West Sussex and the UK. We take on both short and long-term commissions, approaching each project with the same level of passion, care and dedication, with Andy being personally involved throughout.
Every staff member involved in the design is passionate about their work and prides themselves on their knowledge, experience and attention to every detail.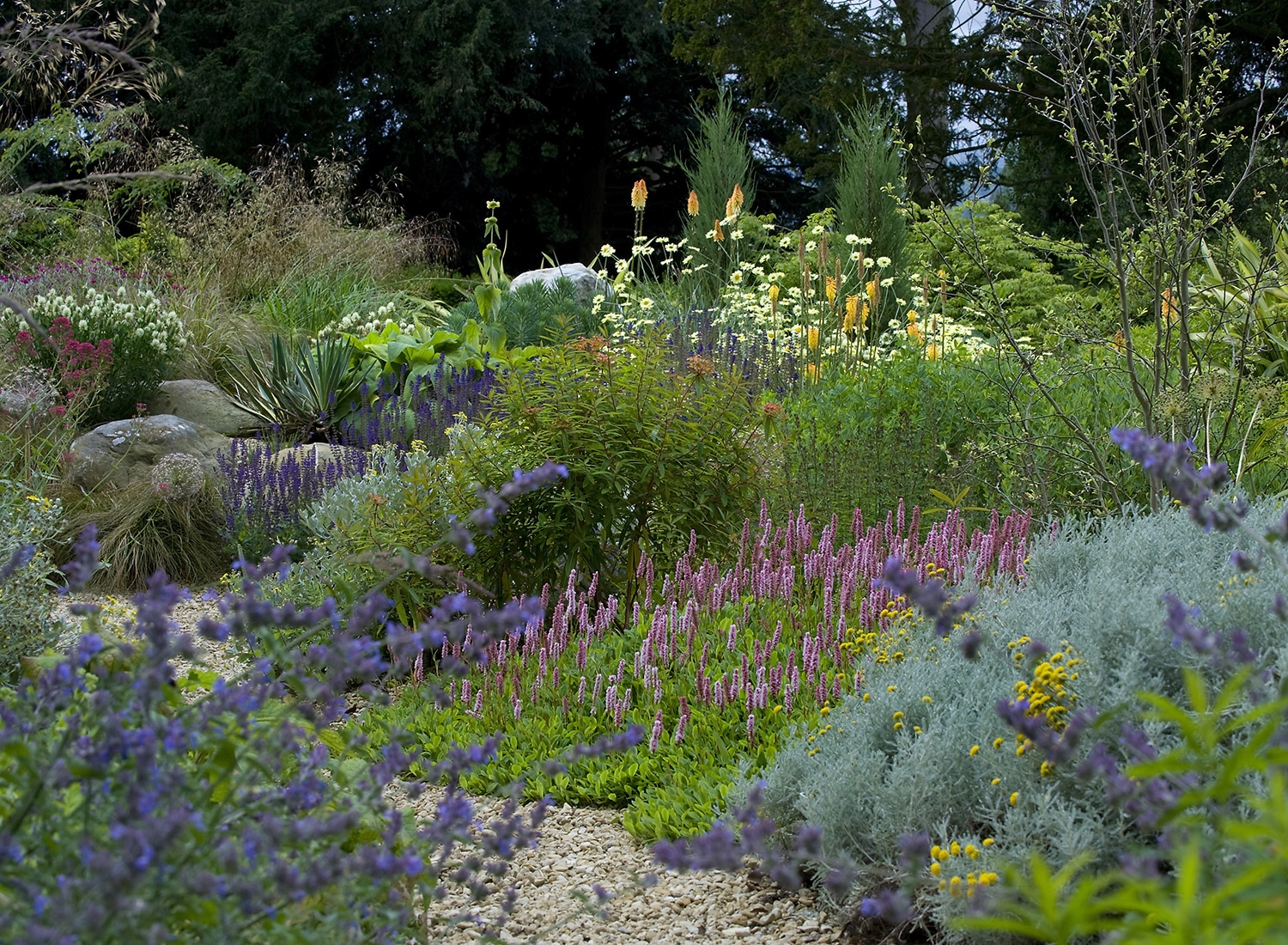 Andy's Experience
Andy remains one of the most revered and respected garden designers in the world. Before graduating from the Welsh College of Horticulture in 1987, Andy worked at The Royal Horticultural Society Garden Wisley, and as a landscape gardener. Andy has since presented gardening programmes for all the major channels including Chelsea Flower Show for the BBC since 2005, picking up a number of prestigious awards and accolades in both the UK and internationally along the way.
Andy approaches each new project with his own unique design ethos to create ecologically rich spaces that are both practical and beautiful.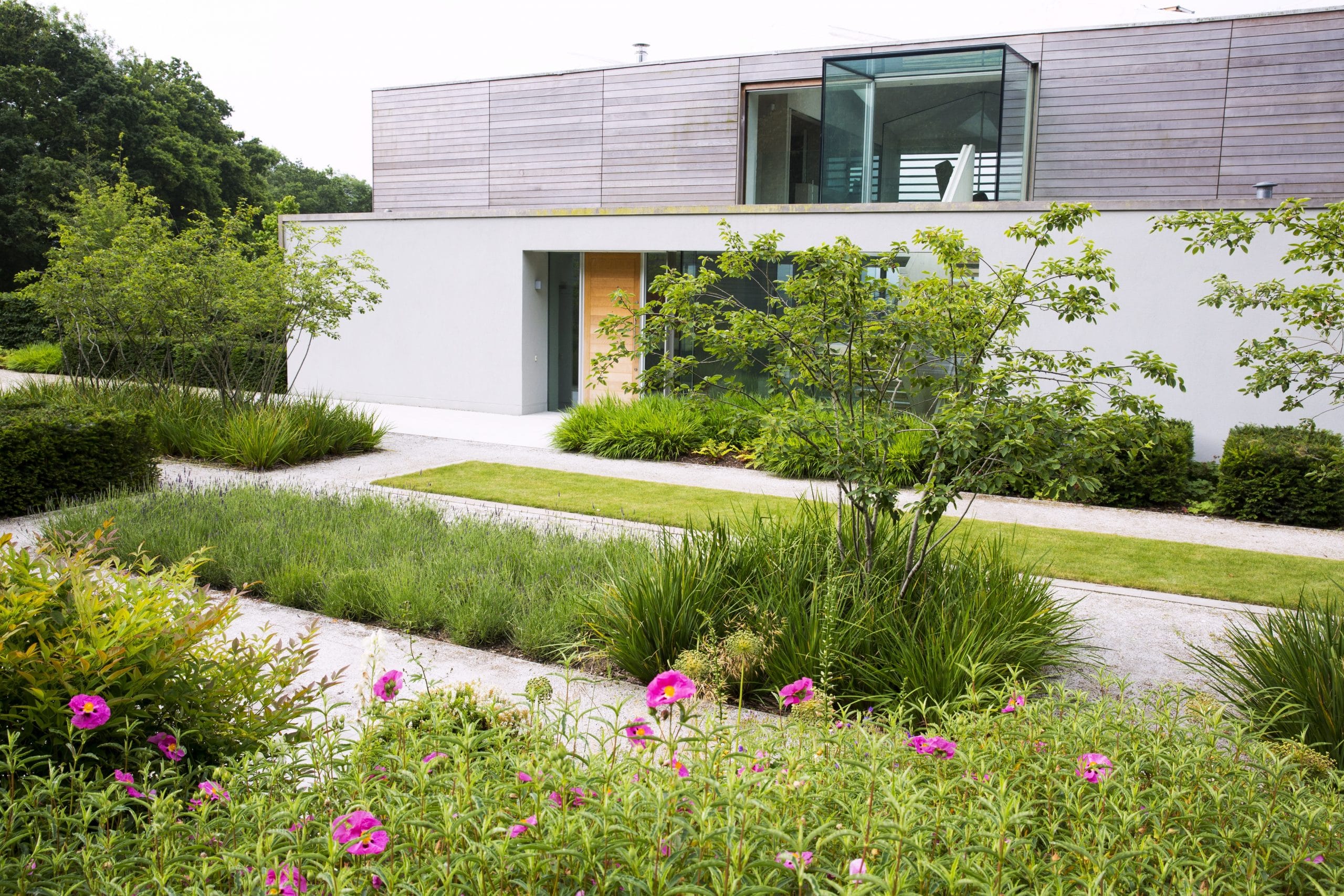 West Sussex
At Andy Sturgeon Design, commissions range from private roof gardens to interesting and iconic commercial projects including public spaces and country estates all over the UK.
Andy has extensive experience in private and commercial commissions across Sussex and West Sussex, with his own studio being based in Brighton. Despite its small size, we were able to turn our outdoor studio garden into a uniquely tranquil space to enjoy sushi and a glass of wine from time to time.
Made from materials sourced from three separate Chelsea gardens, including the lighting, furniture, plants and limestone, we're incredibly proud at how we were able utilise recycled materials to create our timeless and truly authentic studio space in the heart of Brighton.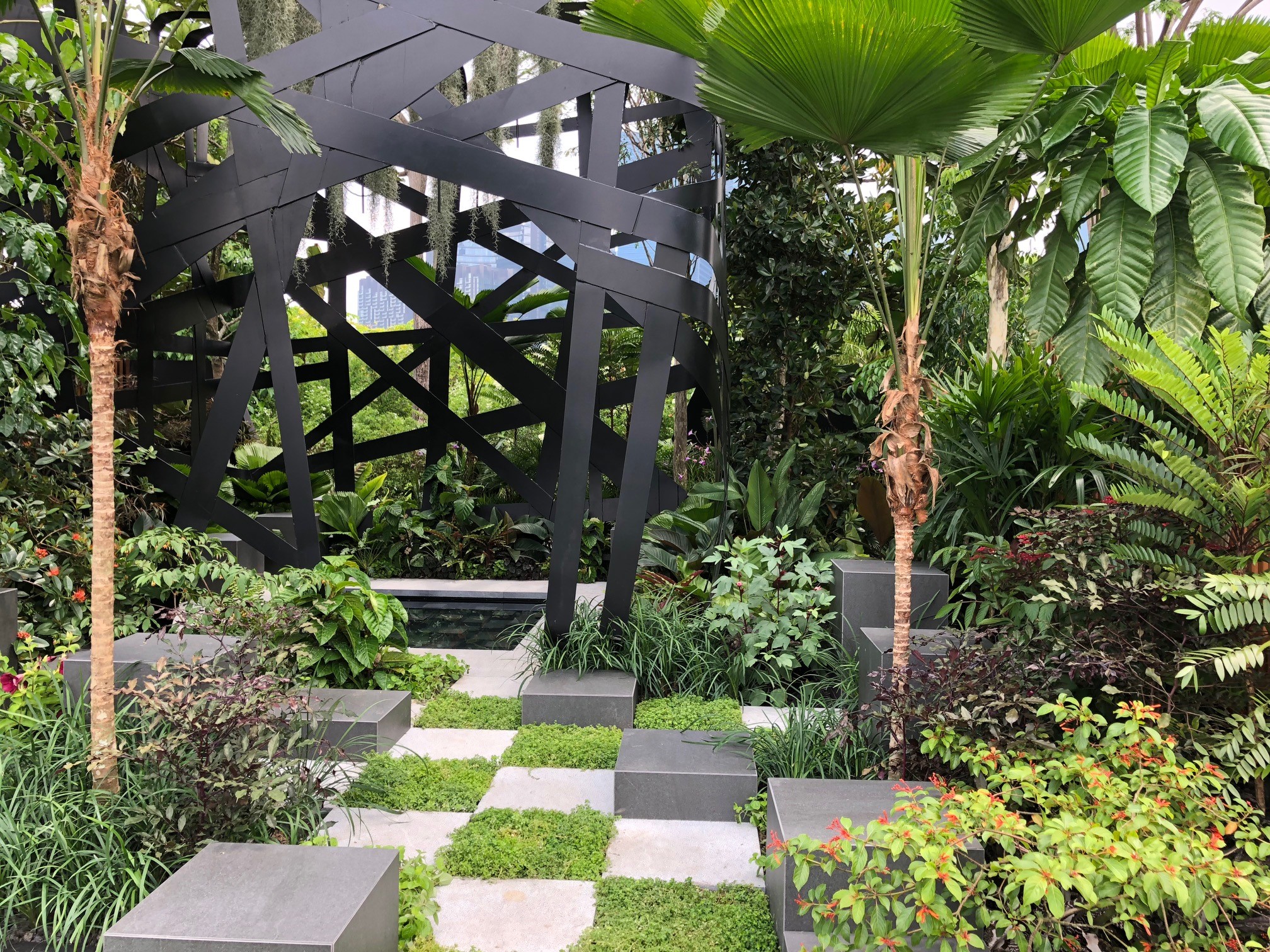 How we work
We pride ourselves on providing clients with a personal and utterly bespoke garden design service in West Sussex. Clear communication and client satisfaction is at the heart of what we do, with our team going above and beyond to ensure we transform your garden design vision into a reality.
Andy is closely involved with every project, whether it's a short-term private commission for a rooftop garden or a longer, commercial project in one of the major cities in West Sussex. After contacting our practice, Andy will arrange to visit your outdoor space to understand the landscape and draw out the essence of the area. Andy will then return with a written brief, which details in full how the process will work and the costs involved.
Each landscape garden we design in West Sussex follows ethical sourcing of hard landscape materials and strict observation of FSC and other codes. We strive to create bold and ambitious spaces that have little to no impact on the environment. This includes using recycled materials in the construction of your garden, and where possible, implementing water recycling capabilities in water features.
The practice is on-hand to provide support and answer any questions throughout each and every stage of the project's journey. Should you have any questions or require alterations during a certain design stage, please do not hesitate to speak to Any or the team.
Every new private project begins with a consultation for which there is a small fee.
see Andy's process
Our garden design process
While every garden and landscape is unique and each project has a life of its own, they tend to follow similar journeys, which is detailed in our 'how we work' process. No matter the size or scale of the project, our practice handles each individual project with the same meticulous attention to detail.
Our garden design service in West Sussex offers the following capabilities:
landscape master planning

detailed design and specifications

historic landscape appraisal and restoration

planning submissions

planting plans and designs

contract administration and site supervision

landscape management and maintenance plans
"I've worked on gardens all around the world, from tiny roof terraces to large rambling estates. I adore the space and freedom of designing large rural country gardens just as I relish the challenge and excitement of designing for the urban environment." – Andy
For a detailed explanation of our design process, take a look below.
Brief
Firstly, Andy will spend some time getting to know what your aims and needs are for your outdoor space. From here, he will develop a written brief and provide you with a full breakdown and explanation of the design process, how it will work and the costs. Many of our projects are associated with new builds or extensive refurbishments and we are always happy to work within a wider team and process.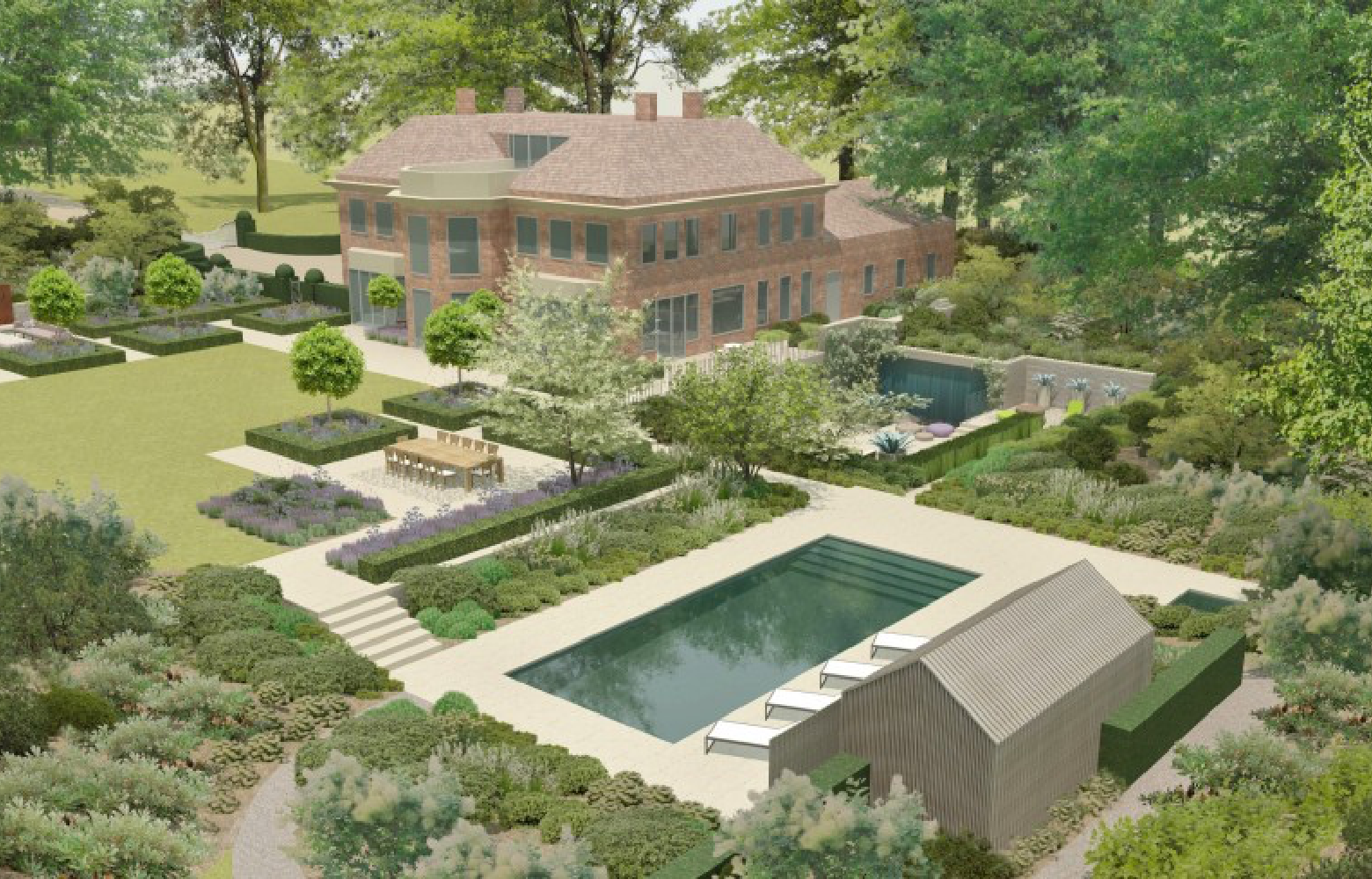 Survey
The survey process includes professionally surveying level changes, trees, buildings, utilities and services to safely form the basis of the design. Andy will also return to the site to take a full photographic survey and analysis to further complement and confirm the initial design concept. The cost of this survey is charged separately but the design team will be more than happy to arrange this on your behalf.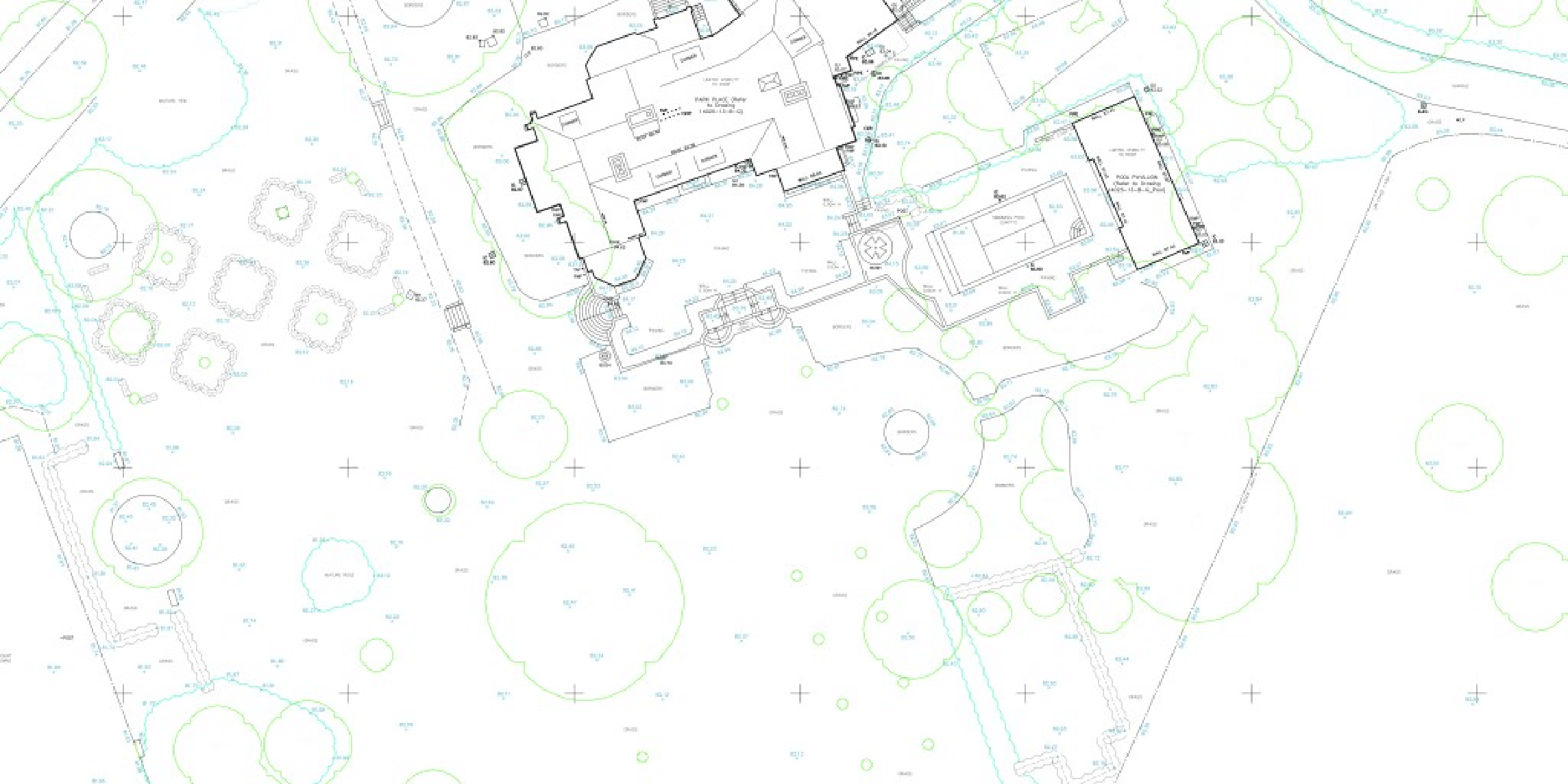 Design concept
Once the survey is completed, Andy will present you with a fixed fee for an initial proposal. This involves a fully comprehensive A3 book with hand-drawn illustrations of your design, 3D visuals and CGIs, precedent photos and a concept plan that will describe, in detail, how your finished garden will look. These plans are by no means set in stone, you may think of this as a discussion document, where any changes you require can be discussed and developed with Andy and the team.
We are also able to offer a QS service at this stage to provide reasonably accurate costings which can inform the following stages of the project.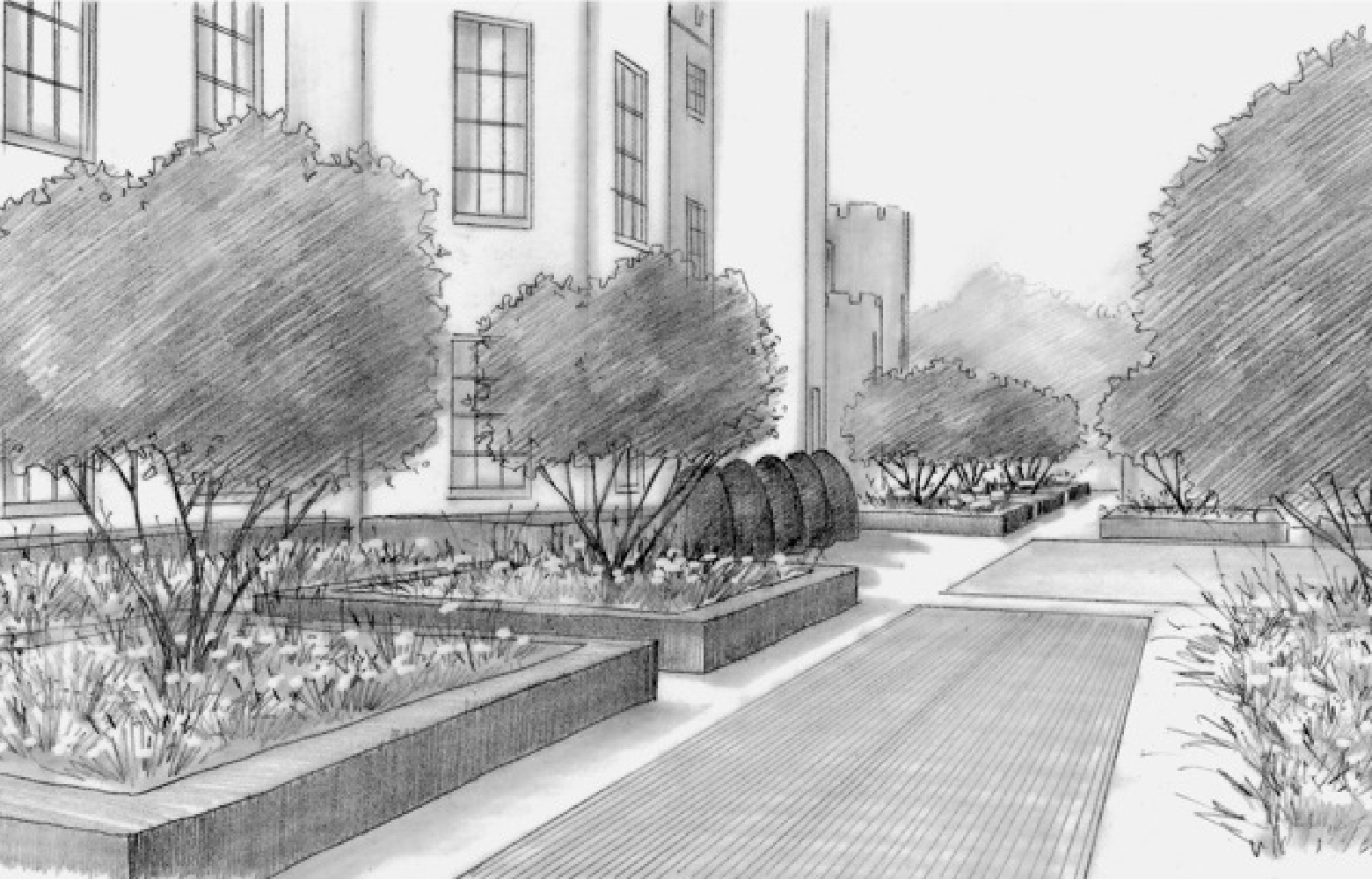 Detailed design
Andy will then produce a detailed final design that will take into account any changes that arise through discussions during the design concept stage. This is a truly bespoke and meticulous final design, everything from the gate hinges to lighting schemes, water features and irrigation will be accounted for. This service and attention to detail is seldom seen elsewhere and we are extremely proud of the quality of information contained in these documents. Importantly this high level of detail will often save money later on by allowing the project to be accurately tendered and priced.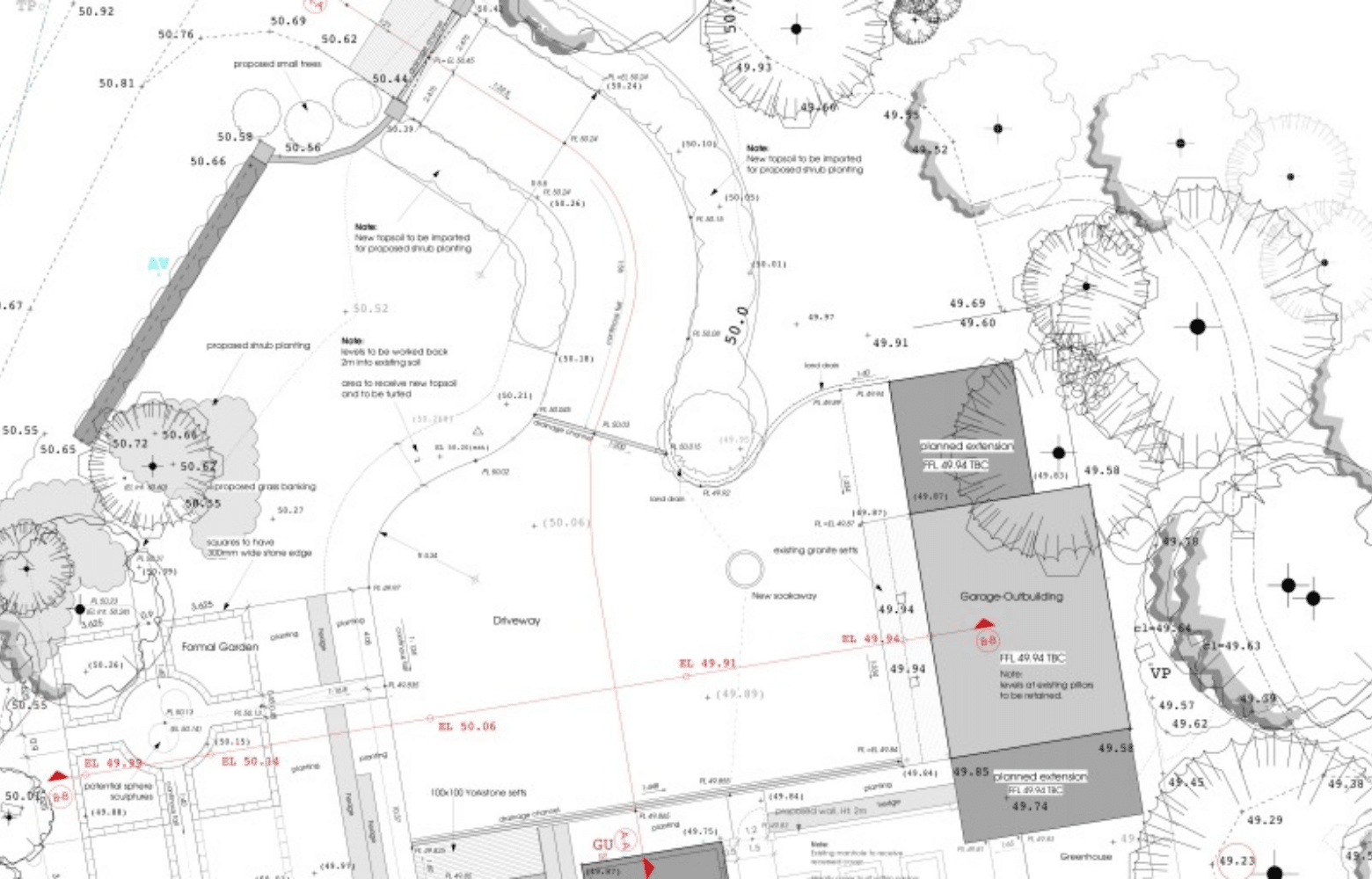 Planting
The planting process is typically allied to the detailed design stage. However, for clients who wish to remain closely involved in the planting design, Andy will work with you to ensure your demands and bespoke requirements are met. Alternatively, if you are happy for the team to have full rein over the planting process we are more than happy to do so.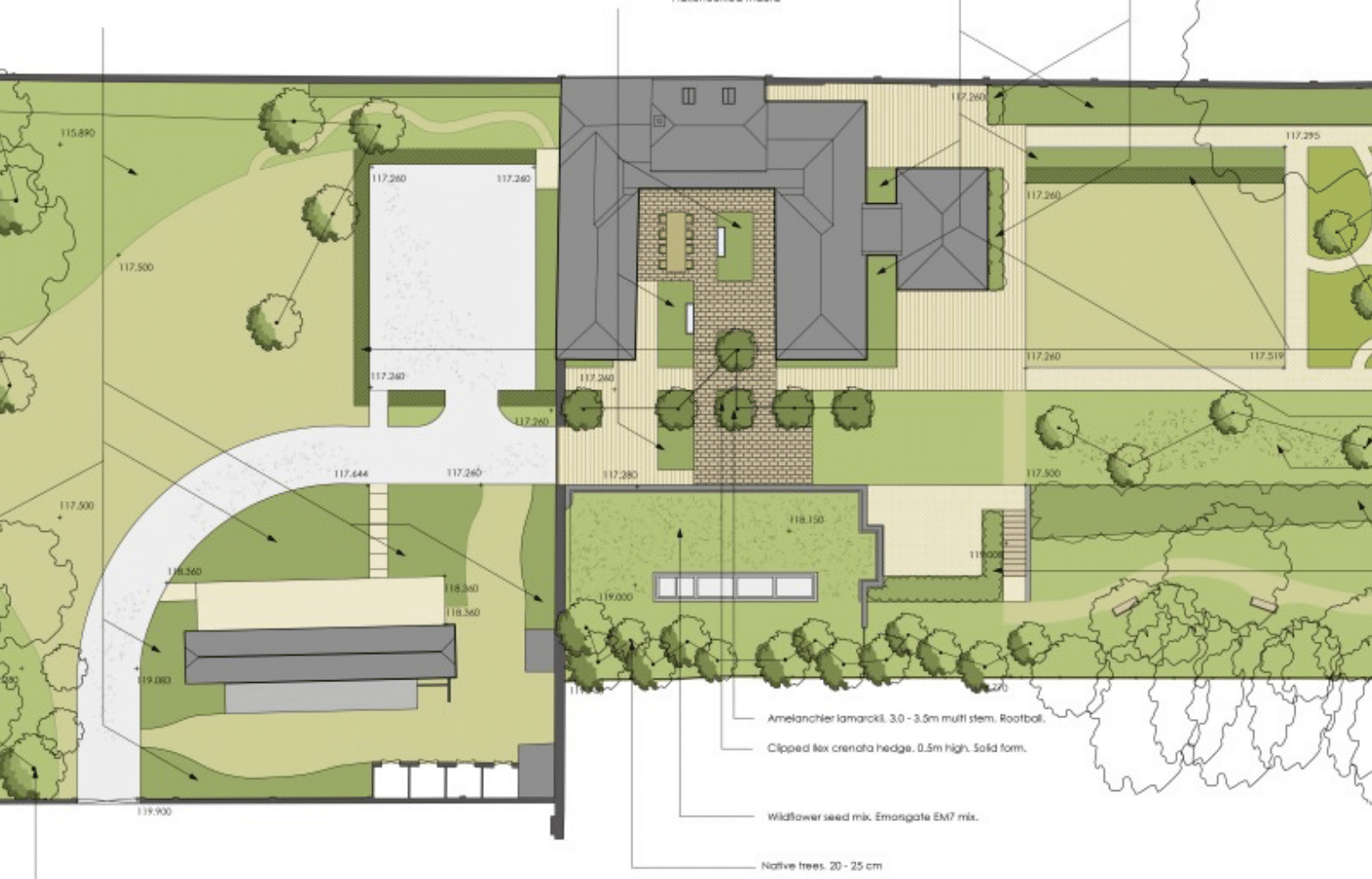 Tendering
The scheme will then be passed onto two or three landscape contractors trusted by Andy. They will be given a full tender package with drawings, specifications and bills of quantities required for pricing and construction. Site visit will then be arranged on a preferred date and time. They will then provide an itemised quote which Andy will personally analyse and from this, produce a tender report highlighting and addressing any concerns or merits of each.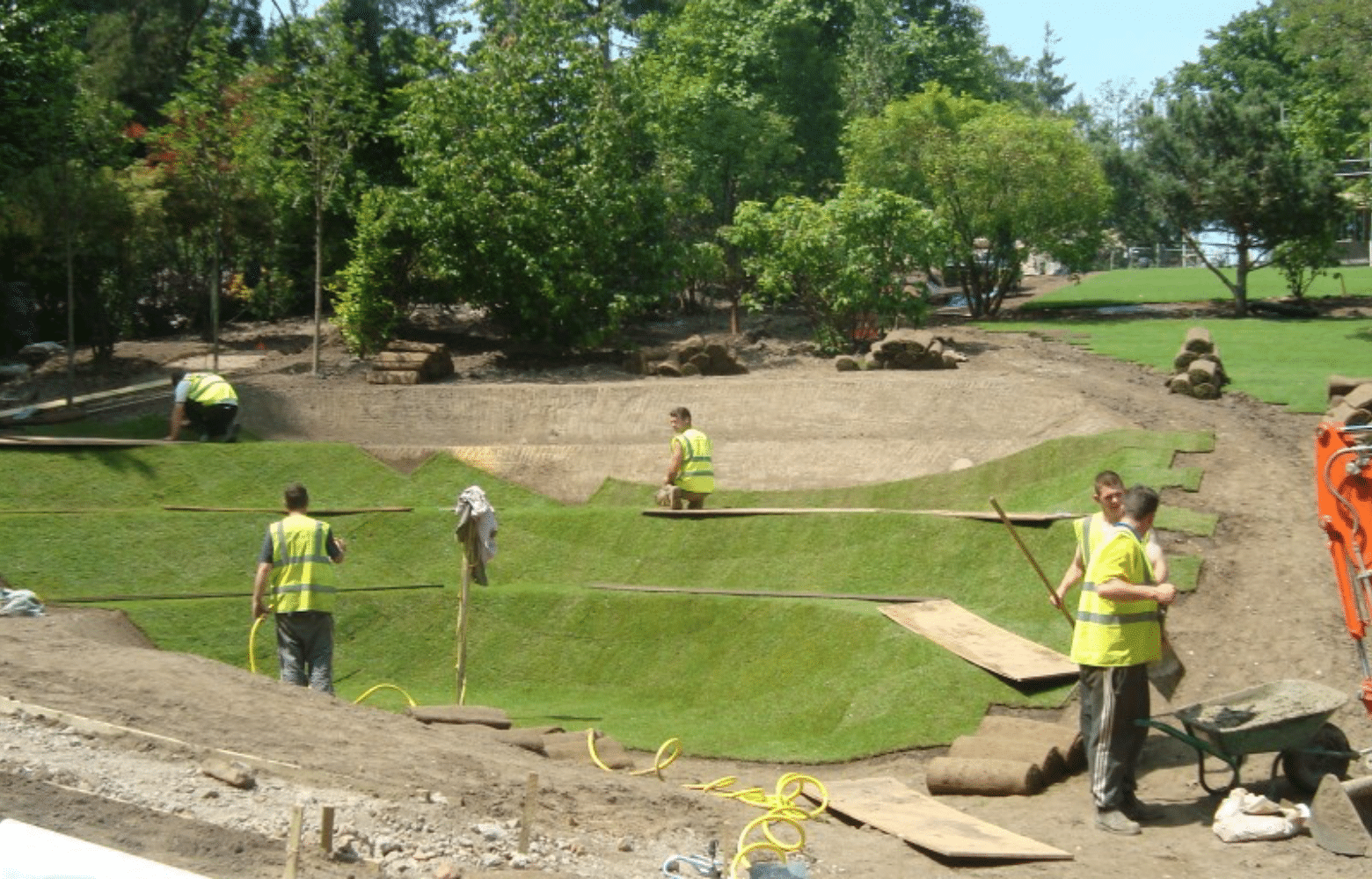 Sustainability
Ensuring every aspect of our garden design process is as eco-friendly as possible is incredibly important to us. If your garden or landscape plans to include water features, we would look to incorporate grey water recycling and rainwater harvesting recycling for a more sustainable design. 
Where possible, we may implement urban greening in conjunction with the installation of green walls and roofs. Not only does this have fantastic environmental benefits, but offers a unique and raw aesthetic to outside spaces.
You will of course be able to discuss your sustainability viewpoints with the team to ensure you are happy with the direction the design is taking.
Learn more about our sustainability mission.
make an enquiry
Portfolio
Our work is frequently featured on television and in books, magazines and newspapers worldwide. Andy has written several books on garden design and regularly appears on gardening programmes for the major UK channels including The RHS Chelsea Flower Show for the BBC since 2005.
make an enquiry