convoys wharf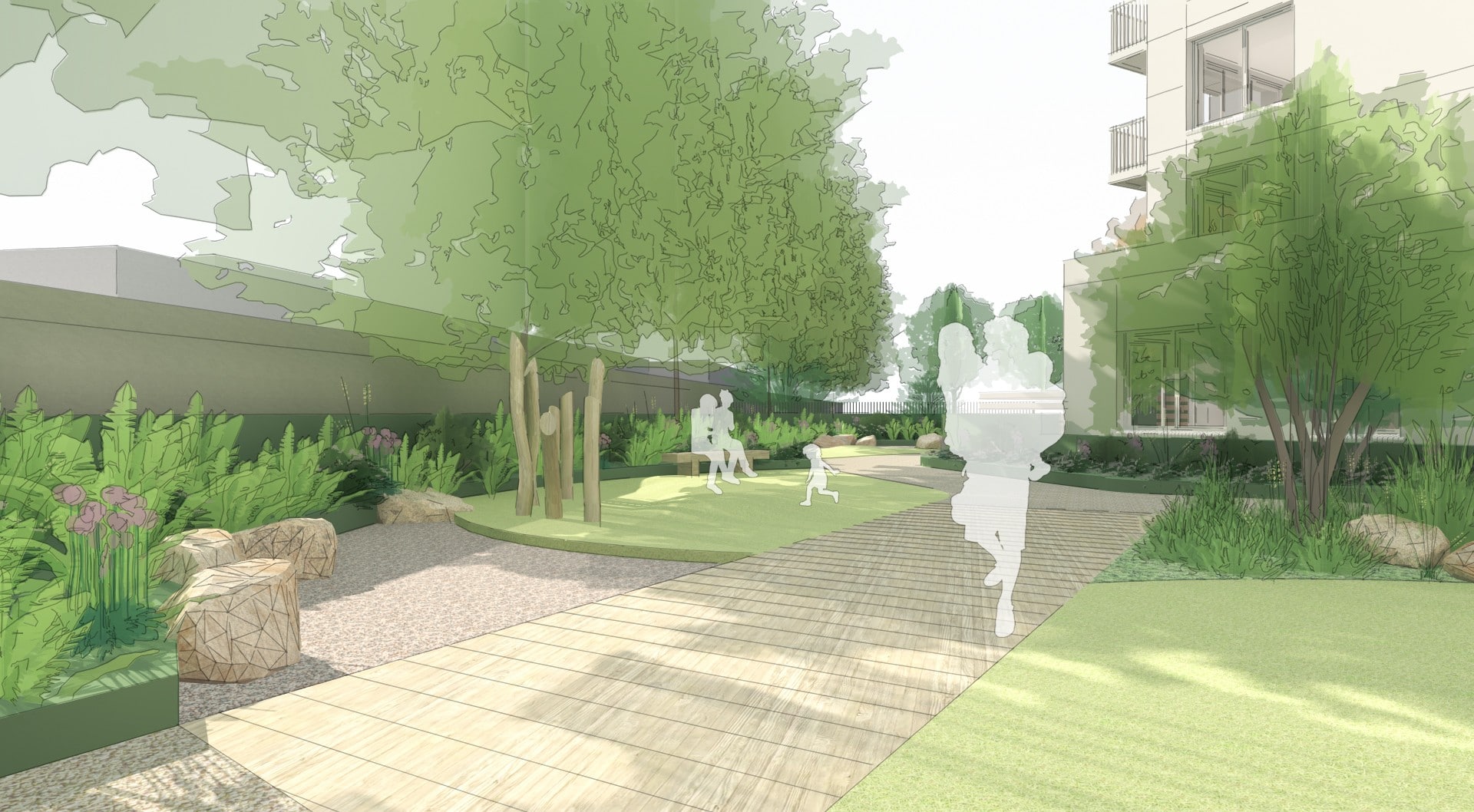 deptford, London
Client: Hutchinson Property Group
Role: Concept Design and Planning
Site area: 16.6 hectares (Masterplan) / 0.6 hectares (Plot 15)
Status: Planning
Location: Deptford, London
Plot 15 Architect: Glenn Howells Architects
Masterplan Architect: Farrells
Images: ASD / Farrells
Andy Sturgeon Design were appointed in 2019 by Hutchinson Property group for landscape design services on Plot 15 of Convoys Wharf, part of the first phase of this significant masterplan for Deptford, London.
Masterplan
The overall masterplan is to redevelop the 16 hectare brownfield site in Lewisham on the former Deptford Dockyard and Sayers Court manor into a major mixed use development with a new vibrant waterfront, enhanced cultural facilities that re-establish a sense of place and identity embracing the sites rich history, new commercial facilities and a new high quality living environment.. The site has 450m of river frontage which will be reopened to the public after 500 years and provide new river boat service, will restore the Grade II listed Olympia Building, provide 3,500 new homes and over 2,00 new jobs.
Plot 15
Plot 15 forms part of the first phase of residential blocks for the site and focuses residential provision with retail and business space to the ground floor streets. The landscape for the plot includes: the surrounding streetscape with active frontages, residents garden and green roof.
The plot is located where two distinct character areas of the masterplan converge. The Eastern Gateway and The Evelyn Quarter bring both river and parkland influences to the site, which are carefully woven together to create a cohesive and playful environment for families.
The existing London Plane trees along the site boundary will be retained and protected. New strategic tree planting will enhance and filter views across the site and strengthen its visual connection to the wider landscape.
The public realm blends seamlessly with the tree lined streets of the wider masterplan. The coordinated materials palette and tree planting strategy creates a clear and legible hierarchy and a pedestrian friendly environment.
The private residents' garden is located to the rear of the building and provides natural play for young children. Open areas of lawn are focused within the sunnier parts of the garden and provide further flexible space for play and picnics. Planting provides screening and privacy to the ground floor apartments whilst enriching the site's biodiversity. Further areas for wildlife are provided at roof level.