rhs chelsea flower show 2016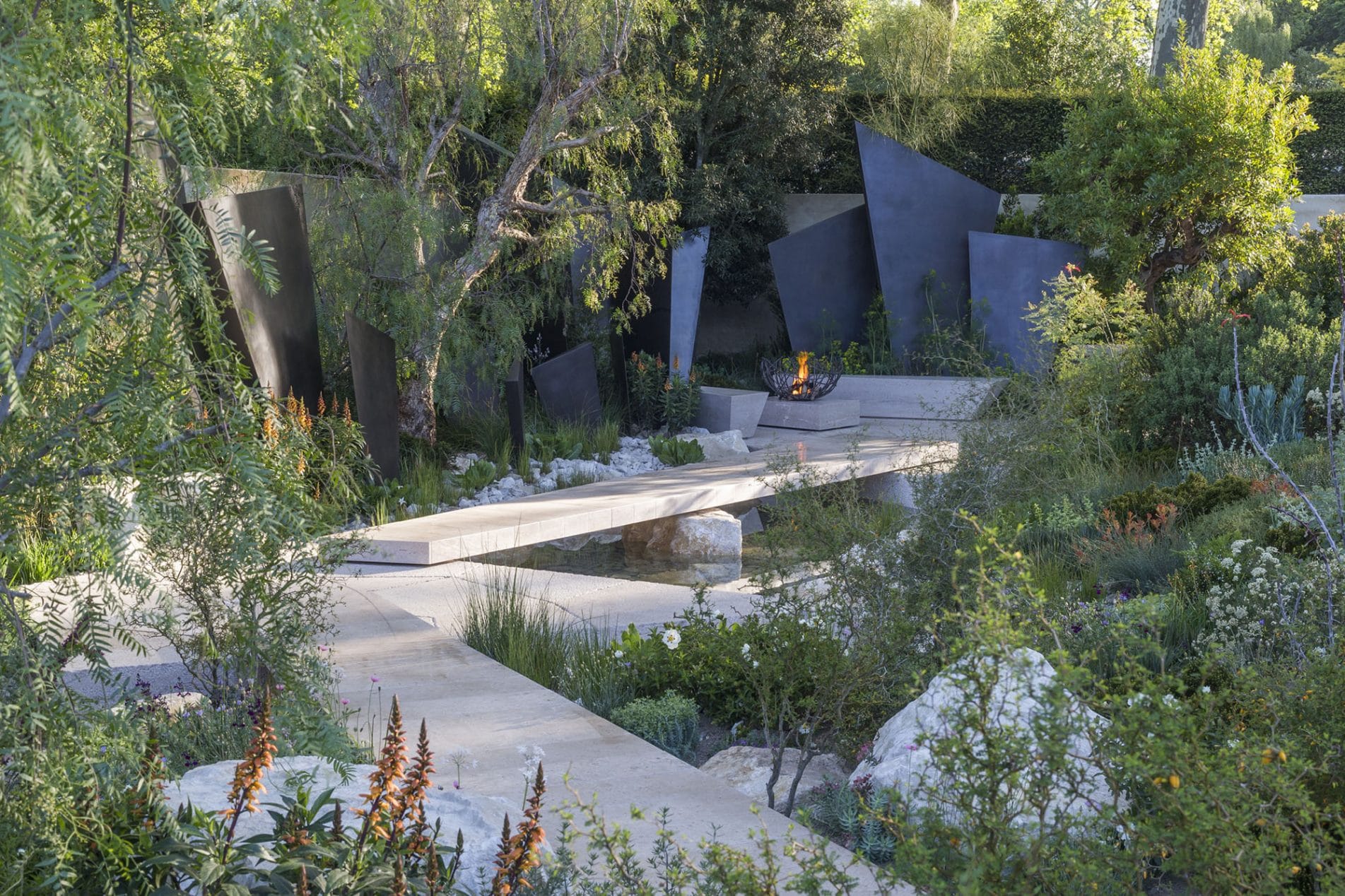 daily telegraph
awards: best in show and gold medal
Inspired by the magnitude of geological events which shape and mould our landscape over millions of years, this is a garden about perspective of both time and scale and reminds us of our own relatively insignificant and fleeting moment on earth. It is a 'captured landscape'; a gently gardened place within a larger, wilder setting where dramatic bronze fins represent an ancient mountain range with a stream of melt water running in the gorge below. The garden aims to highlight the need to adapt gardens to their environments and to future-proof them against climate change. The plants are drawn from warm, semi-arid regions in about 32 different countries of the world to create an imagined but harmonious plant community. This contrived landscape is an 'almost' garden that sits comfortably in its existing natural surroundings. This is the philosophy of 'Les Carrieres de Bibemus' in Provence, a geologically rich landscape made famous by the paintings of Paul Cezanne. The strong earth colours he used and the plants from the region are all represented here. The planting palette has echoes of the chaparral of California's Sierra Madre and the Mattoral of the foothills of the Chilean Andes with the chosen plants being adapted to the same climate and conditions.
Drawing on fundamental elements and materials, the garden uses stone, metal, water and fire in stark contrast to each other. The 17 huge bronze monoliths are inspired by the rugged forms of a linear mountain range which create the spine of this 'garden'. These sculptural shards define spaces creating enclosed seating areas, shelter and a backdrop to the garden and planting. Orientated in conflicting angles the monoliths catch the sun as it moves through the sky lighting them up as it passes, casting interesting shadows, framing views within the space and echoing the sinuous flow of the water course.
The islands of stone are made from gigantic blocks of roughly hewn Chilmark limestone laid down during the late Jurassic period 150 million years ago. The rough surface of this ancient rock reminds us of the natural origin and significant age of the stone whilst the bridges have a smooth honed finish exposing the fossils contained inside and demonstrating mans fleeting intervention in this site.
All the built elements of the garden are formed from similar rhomboid shapes chosen to be stylized geological forms and the metal fins also echo the fossilized bony plates of a Stegosaurus which walked the earth during the latter part of the Jurassic period whilst the Chilmark stone was being formed.
I wanted these elements to evoke the powerful feeling of drama, wonderment and awe that I felt as a boy walking into the cavernous entrance of the Natural History Museum. The result is a garden that is both adventurous and unexpected and taps into the psyche of children and adults alike.